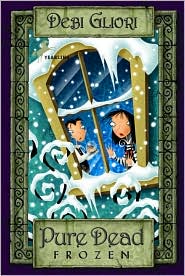 Gliori wraps up her Pure Dead series with a most satisfying book. The Strega-Borgia family has their beloved nanny, Flora McLachlan, back in the fold, and they're awaiting the birth of a new child, Little No-Name. This being the SB brood, there's danger lurking around the corner, and things are about to get as wild as can be...

After losing the Chronostone, S'tan, First Minister of the Hadean Executive, has become a television chef. He's not quite the S'tan he used to be, as can be witnessed by the fact that it is snowing in Hell. Isagoth, demonic defense minister, is trying to track down said Chronostone for S'tan, but not having much luck. And none other than Don Lucifer di S'embowelli Borgia, Luciano's evil half-brother, is still trying to kill him, and has made a deal with S'tan if the big guy can pull it off.

When Baci goes into labor with Little No-Name, things take a dark turn. The family is noticed by Isagoth, who then kidnaps Little No-Name and replaces him with a changeling. Most of the family remain oblivious to the switch, all except Papa dearest, who quickly tells Mrs. McLachlan that something is amiss with his new son. Flora takes control and begins to rally the Strega-Borgia family for battle, aided by the various beasts of the mansion, not to mention baby Damp's nanny, Miss Araminta Fraser, and her paramour, Latch, the butler.

It's a dramatic race to the finish of the book, and the series. I really love the Strega-Borgias; they're a bit dysfunctional but they obviously love each other and would do anything to protect the family. All of the beasts have good hearts, too, so you really need to count them as family members. And then there's Flora McLachlan, probably my favorite supernatural nanny of all time. Yes, I love her more than Mary Poppins!

What really surprises me is that this series hasn't been more popular. I originally picked it up because it had a blurb on the back about the Lemony Snicket series, which I tried to read and gave up on after Book 4. The writing in the Pure Dead series is funny and touching, the plot is never the same twice (my main complaint about the Snicket series), the characters are well-developed - what more can you ask for from a book? Do yourself a big favor and find the whole Pure Dead series, read them, love them, laugh out loud. You won't be sorry.