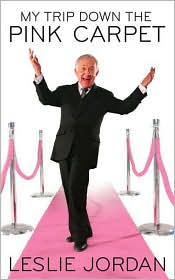 I have seen Mr. Jordan in several shows and movies over the year, and I always thought he was just the cutest little guy ever. Turns out, he's had a rough life, both mentally and physically. I cannot even imagine growing up as a Baptist while being gay! As he puts it, he is the gayest man he knows; when he was born, he says he just slid on out of his mama and right into her pumps. Yes, this is the sort of humor you will find in his small yet touching biography.

Mostly the book is about his days as an actor in Hollywood. He's had several "man crushes" on people such as Matt Lauer, Mark Harmon and Luke Perry. He's also had his share of bad relationships, drug abuse, and dark times. After finally admitting he was an alcoholic, Mr. Jordan has enjoyed several years of sobriety. He's also enjoyed recurring roles on shows such as Will & Grace, where he feuded with his nemesis, Karen. (never got to see that, should look for the repeats!)

I think one of the most touching parts of the book is after he's started to experience friends dying of AIDS. One such friend is actually a childhood friend of his from his hometown; they grew up in the same church and used to dress up in the mamas' clothes, then belt out the tunes. When he runs into this friend again, they commiserate quite a bit, and the friend takes a sharp downhill turn quickly. While Mr. Jordan is there with him, the friend has this revelation:
"Leslie, it's important that you listen, because I heard Him. I heard the voice of God. And it is so simple. See, first of all... the soul has no gender. So, when it is all said and done, it is not about whom one loved that is important. What is important is the quality of that love. We are on this earth for one reason and one reason only. And that is to give quality love on a daily basis."

I couldn't agree more.