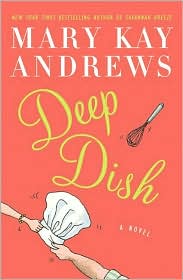 Y'all just don't understand how much I've wanted MKA to come out with another book - fast! I've read all her work to date and "Hissy Fit" is probably my favorite. These are light mystery/romances with a very Southern flair to them. The "Blue" books have the added benefit of "junkin" - scrounging for antiques. Having lived here in North Carolina for about 6 years now, I can tell you that people take their antiques very seriously around here! When I heard that MKA's newest would be about - gasp - food, I was thrilled. Chefs! Recipes! Hot romance in the kitchen!

"Deep Dish" is the story of two small-time chefs, Gina Foxton and Tate Moody. Gina has her own public-access cooking show called Fresh Start; she's about to be cancelled, has broken up with her cheating producer-boyfriend, and has a rather unhealthy habit of sneaking pork rinds after dark. Tate is an all-around Southern outdoor guy who host his own show, Vittles, on the Outdoor Channel. He's pretty much happy with his life as is, hanging out with his adorable dog Moonpie (a setter - odd choice, I thought), killing and grilling things.

Enter the two most self-centered, self-absorbed producers on the planet, Scott and Val. Scott is the aforementioned cheating ex-boyfriend; Val works for the Tatester. Both find out that The Cooking Channel (aka TCC) is looking for a chef for a new show about Southern-style cooking. Both producers want their "stars" to be the new TCC star, so they push them into a contest for the position. Thus, the first-ever TCC "Food Fight", an idea cooked up by none other than the TCC president, Mr. Adelman. Gina and Tate are whisked off to Eutaw Island for the Food Fight; they will be competing in three challenges and can use only items they are able to find on the island. Keep in mind that this island is mostly uninhabited. There's an inn with some staff, but for the most part it's a wild place.

Who wins the Food Fight? Well, that would be cheatin' y'all if I told ya! Nah, it's pretty obvious what's going to happen. And maybe that's what was disappointing about this book. It didn't have the usual sparkle and pizazz of MKA's other works. In fact, it was OK until about half-way through; then the romance between Tate and Gina finally started kicking in. The biggest problem? Lack of character development. Tate and Gina, our main peeps, didn't have enough written about them, nor were they on the page enough. I got a bit tired of reading about Scott and Val; they seemed a bit too stereotypical for my taste. Lisa, Gina's little sister, was quite funny, as was Gina's makeup artist, D'John. Again, though, they were on the page a bit too much; the focus really should have been on Gina and Tate.

The plot was a bit stereotypical, too, and quite honestly, I thought the profession of love by Tate was too sudden. That's not letting the cat out of the bag, people - y'all knew they were going to be together by the end of the book! I think that if there'd been more development of Gina and Tate, their romance would have rang truer at the end. Overall, it's not bad. But it just doesn't have the usual spice that I expect from Mary Kay Andrews. Hopefully, she'll go back to what she does best - write about junkin'-lovin' Southern women!