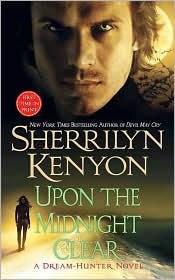 Well, it had to happen sooner or later, I suppose. I'm starting to get a bit weary of Ms. Kenyon's world, what with all the Dark-Hunters, Dream-Hunters, and Were-Hunters to keep track of. But I'm loyal to a fault, so I picked up this holiday Dream-Hunter offering. Sigh.

Was it horrible? No. Was it great? No. It's sort of like having a meal that looks sinfully good on the menu, but turns out to be just food when it arrives at your table. Filling, but not really satisfying, you know?

Our story is basically about a bitter, angry, now-reclusive movie star, Aidan O'Conner. He was the hottest thing in Hollywood until his family and friends turned on him and fed salacious stories to the tabloids. Oh, and he was a really good guy, too - giving people money, time, autographs, etc, before his downward spiral into Scrooge-ville. Think Tom Cruise before the infamous couch-jumping incident.

Enter Leta, one of the Dream-Hunters that was sucked dry of all her emotions by Zeus. All because he doesn't have a sense of humor! Leta has reawakened due to the summoning of Dolor, the god of pain, a being that she put in stasis centuries ago, and of course, a being that cannot be allowed to walk the earth. She senses Aidan and his anger and decides to use that to give herself a power-boost so she can take on Dolor. She first appears to Aidan in a dream, then conveniently turns herself into a human and shows up at his front door in a blizzard (one created by her, of course!) The dream gives Aidan that whole "haven't I seen you somewhere before?" feeling of deja vu and buys Leta enough time to enlist his help.

Oh, and Aidan and Leta fall in love, all in about a day or so!

The book is basically a short story double-spaced with very large margins to fill a paperback book. Or perhaps that's being too mean; maybe it's really a novella. Either way, it is NOT enough of a story to merit buying this thing. It took me all of 2 hours or so to read! And the story is just not all that great, I'm sorry to say. I had a very difficult time believing that Aidan would be the ideal candidate to help Leta, seeing as how he still had his nice-guy interior going. And his brother? The one that was so jealous and went after him? THIS is the genius that summons Dolor? Uh-uh. He didn't strike me as being anywhere intelligent enough to track down information about ANY god, let alone one as big and bad as Dolor. There were just too many holes and not enough to recommend the book for me.

Let's hope that Ms. Kenyon gets herself back on track with her next work, otherwise I'll probably read Ash's story when it's released, then release myself from this series.