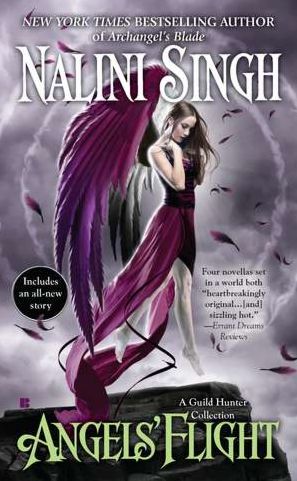 I first read one of these stories in another collection, "Angels of Darkness". I'd picked up that book primarily due to the story by Sharon Shinn; I'd read her Samaria series and absolutely adored it. Imagine my surprise at how much I loved "Angel's Wolf", the offering by Nalini Singh. I'd seen her name on some of the groups I belong to on various websites, and knew that she was considered a pretty good romance writer. I enjoyed "Angel's Wolf" so much that when I saw she had a collection coming out of four of her own angel stories, I decided to pick it up as soon as I could. (Which meant waiting for it to show up in our library system, as we know I rarely buy books anymore.)
This is a lovely book, and I must admit that it makes me want to read her full-length novels in this series (Guild Hunter). "Angels' Pawn" starts us off, and I think this was probably the weakest of the four selections. In fact, I'm pretty sure that there's a book with these two characters in it somewhere, a book I probably should have read before this story, as I felt like I was missing a lot of history between said characters. Vampire Hunter Ashwini must work with smoldering Cajun vampire Janvier to prevent an all-out war between two rival vampire factions. Of course, the vamps are being pitted against each other, unbeknownst to them (or maybe not - never really clear on that). Janvier seems like the epitome of forbidden fruit, while Ashwini seemed...I don't know. I just didn't feel her character much. As I said, I know there's history between these two, and perhaps I'll learn more if I read the series.
In "Angels' Judgment", we meet Sara, candidate to succeed Simon as Guild Director. But first she must complete one last mission, tracking down a suspected rogue hunter and delivering justice. During her investigation she meet Deacon, aka The Slayer (and yes, there is a nice little nod to his nickname coming from a certain TV show), the one sent to dispatch hunters gone astray. Of course, this is no walk in the park, as the angels that make up the Cadre of Ten will be watching Sara - watching her pass or fail the tests they set in front of her. It's going to be a long couple of days, but with Deacon by her side, she can survive anything. Anything but a broken heart: as Director, she cannot be seen as weak, and as The Slayer, he must keep himself cut off from emotional ties. Nice character development, and from what I understand, this is actually backstory to one of the novels, showing how these two became a couple.
As I said previously, I'd already read "Angel's Wolf", and it was great. The vampire Noel has been sent to investigate a potential murder plot in angel Nimra's court. There's intrigue all around, and Noel is anything but friendly toward the angels, having been beaten and broken in a previous court. But Nimra catches this damaged vamp's heart with her kindess and beauty (she has a unique fondness for kitty cats), and he quickly becomes her biggest fan. Which means he has to discover who wants to kill her and deal with them. What I loved about this story is that all is not as it seems, with some nice plot twists rounding out a nice little love story.
Finally, we have "Angels' Dance", my absolute favorite. This is the engaging and wholly romantic tale of Jessamy and Galen. Jess, a thousand-year-old angel, is the teacher and historian at the Refuge; she doesn't leave it due to a misformed wing. She is the only angel with such a deformity, and feels if humans see her, they'll know that angels have weaknesses. She spends her time instructing the angel children and tending the library. Enter Galen, a huge brute of an angel who has come to present himself to the archangel Raphael in hopes of becoming his weapons master. Galen is blunt in all he does, including his sweet attempts at wooing Jess. She can't imagine what he sees in her; she's "not right", and too skinny. He sees her inner beauty, looking at her more like a delicate exotic flower than a crippled angel. The chemistry between the two is immediate and undeniable, and when Galen first takes Jess flying, it's breathtaking. A fabulous story of what love can truly do for one's soul. This reminded me so much of Shinn's Samaria series, I found myself wanting to go back and read all five of those books! Singh really delivered on this one, not only in the character development and the plotting, but also in the exquisite scenery exposition. I literally felt like I was flying through the heavens with Jess and Galen.
Overall, if you've never read Singh before, this would be a great place to start. If you're a fan already, pick this up for the last story (there are several Amazon customers who were upset that this is almost a total reprint of previous material.)