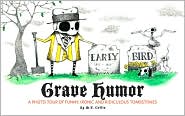 It's almost embarrassing to say I "read" this book; it took me all of about 10 minutes to flip through the whole thing. But it provided me with some awesome laughs, and with the world the way it is these days, one needs to laugh as often as one can.
The book operates on a very simple principle. On the left page you see a photo of a tombstone with the name of the dearly departed. On the right page is some sort of humorous comment about said tombstone. Sometimes there's only one headstone and the comment is about the name, or the epitaph if the deceased chose to have one done. Other times there's more than one headstone and the comment page points out how well they go together, such as the two headstones in the same cemetery mere feet apart that read "Maxwell" and "House". The comment page? "Dead to the last drop".
Hey, I never said it was intellectual humor!
There are the odd headstones, too, the ones that are shaped like something from the person's occupation during life and some "infamous" last words. Overall, it's a funny and cute book, but I'm not sure I'd actually pay the almost $11 retail suggested on the back. It would make a great gift for the person in your life with a warped sense of humor, or perhaps if you exchange Halloween gifts...