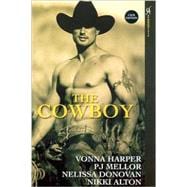 Every once in a while you get a donation that just throws you for a loop; this was exactly that sort of book. Someone had dropped off two bags of various mass market paperbacks and trade paperbacks, most of them romances, along with a few Christian fiction and I think one non-fiction book - and this. I thought at first that it was just another romance until I turned to read the description on the back. About 3/4 of the way down the blurb, there's a box that says something along the lines of "CAUTION - EXTREMELY HOT!
Sexually explicit material inside
"
.
Oh my. Then I realized if I'd just looked at the publisher (Aphrodisia), I would have known right from the get-go that this was erotica. Yeah, something we do
not
carry in my library system, and something we also don't sell at our annual book sale (just like any X-rated DVDs, although I'm not entirely sure any one's ever turned in one of those!) I set the book aside trying to decide what to do with it, then after talking to my good friend Wendy of Half Price Books, I realized I knew exactly what to do - send it to her! They've always had a good section of erotica for purchase, and the book is in good shape for an older title. And I have to admit, the cover art is certainly eye-catching!
Well, after the book sat there for a few days on my shelf at home, I have to admit that curiosity got the better of me. Plus I was looking for something to read before I went to sleep, so I didn't want to pick up anything too cerebral. I haven't been overly impressed with the erotica I've tried in the past, and I figured this wouldn't be any different. I was right, to an extent, but I was also wrong.
There's not much sense trying to describe each story because they're all basically the same: a cowboy meets a girl (or fellow cowgirl, as the case may be) and the instant sparks between them lead to sexual encounters. There's no build-up to any sort of romance here - it's pretty much "wham, bam, thank you ma'am" territory. Except that the first three stories all have more of a plot than I had anticipated, and they all could have easily been mere romance stories if the sex had been toned down a bit. Perhaps this is because the authors are all women, but I really haven't encountered that before, the "romance" angle. The last story was what I'm more familiar with, pretty much nothing but explicit sex (to the point that I found myself skipping over a lot of text) and an ending that could go either way.
The writing is competent but I never found myself very involved with any of the characters. As for the "hotness" of the book, I guess it's hot. Maybe I'm just one of those people that doesn't "get" erotica, but I find a tastefully, well-written sex scene that still leaves a little something to the imagination a whole lot "hotter". Maybe it's the fact that the authors have to use the more graphic language rather than the usual literary euphemisms, but I just don't really care for my sex to be that.... hmmm.... clinical? If you do enjoy erotica, this might not be a bad book to track down. I do like the cover, though, so I'll give them brownie points for that!